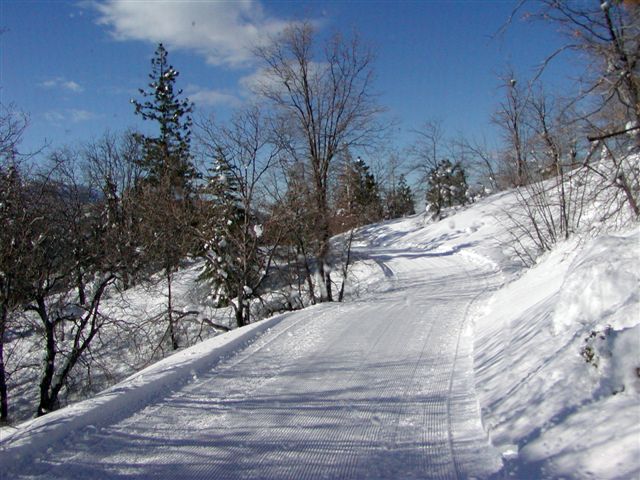 Rim Nordic is proud to have groomed trails for our skiers. With our Piston Bully grooming machines, we are able to groom for classic skiing as well as skating lanes on all trails except the snowshoe trails.  Of course,  snowshoers are encouraged to snowshoe "off trail" for that special experience in the outdoors.
With 10 miles of groomed trails, there is something for everyone; beginners, intermediate & expert skiers.  All trails marked for each level with CCSAA universal signage.
Beginner is green, Intermediate is blue,  Expert is black. You can stop anywhere and have a bite to eat.

All distances on the trail map are round trip and approximate distances.
Deep Creek Loop: .25 of a mile ••• Country Road: 2 +miles
Lower Country Road:  2 +miles ••• Vista Trail (lower): 1 mile
Big Cedar: 1.5 miles ••• Lone Pine: 1.5 miles ••• Vista Trail (top): 1 mile
Up & Down & Manzanita Trails are for snowshoes ONLY.