ENDURO RACING FOR 2018
Southern California's Bike Park and only Cross Country Ski Area! With over 15 miles of great trails.
RIM NORDIC ENDURO - Sept. 9th, 2018 race is ON!
THE RACE IS A GO!  >>>> one event for Enduro at Rim Nordic this season, but we will be only racing 2 stages at Rim Nordic because the other 2 will be at Snow Valley Mtn. Resort, directly across the street from us, utilizing their brand new 6-pack detachable chair lift.  Lots happening so keep checking back as we update details as it gets closer.

Be sure and scroll down the entire page for all information or email with any questions.
THIS WILL BE A FUN & EXCITING EVENT!
THE RACE IS ON !!!  We have rec'd enough registered racers as of Aug 27th to hold the event! But keep sharing….we need to have a good showing for this event to continue next season.
Come join us for some fun, downhill-oriented Enduro racing at Rim Nordic & Snow Valley Mtn. Resort (directly across the street from us).  There will be some climbing to access 2 of the stages at Rim Nordic, OR self-shuttling will be allowed to Lakeview Point on Hwy 18.  Snow Valley has a brand new 6-pack chair lift and bike carriers can carry 4 bikes at a time.  We will race 2 stages on their new mtn bike park trails.
An Enduro bike, all mountain bike or a full suspension cross country bike are good for this race.  NO e-bikes for this event; downhill bike not necessary nor full face helmets but wear if you have one!   Each racer is responsible to get to the next stage start.
Maps will be available on race day, if needed.  NO pre-riding on race day!  Race day registration will be accepted with a late fee.
Practice day for REGISTERED racers  for Rim Nordic will be Saturday, Sept 8th from 9am-4pm.  Snow Valley will be open for daily riding. You will need to pay for a bike park chair lift ticket to ride the trails. …..Cost is 50% of regular bike park pass. 
Possible other specials & deals will be happening prior to the race that you can take advantage to pre-ride Blue Line & Lightning before race day, i.e. Friday nights starting Aug. 10th…ride Snow Valley from 12 noon – 7pm…. (twilight 4-7pm chair lift ticket for $10). Follow their Facebook page for details.

FREE camping on Sat. night (Sept 8th) at Rim Nordic only for registered racers.   Pls. advise us if you are camping!
Don't forget, a continental-style breakfast & lunch is included with your registration.  Menu to be announced!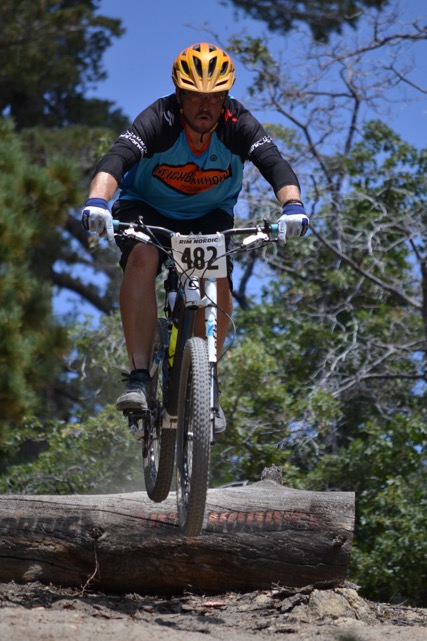 Timed from top to bottom…transfers stages not timed •
NO license needed. Helmets required. Limit 100 racers •
Time trial format – 30 seconds – 1 minute interval starts •
Go as you arrive to each start….no seeding. •
Shuttling allowed at Rim Nordic only •
Entry fee: includes all stages & bike park passes for race day, LUNCH , fruit, drink & snacks. FREE parking & camping for registered racers at Rim Nordic •
Combined finish time of all stages will determine winners. Awards ceremony shortly after last stage. •
• Best pricing options are online  $75 Adults, Juniors (17 & under $50)…..race day registration accepted with a $10 late fee for all.
• Includes our continental-style breakfast & lunch at Rim Nordic
• Registration/Check In: 8-9:15 am, racer meeting 9:30 am at registration area. Race START 10am at top of Stage 1…NO pre-riding on race day.
• Signed release/waiver required. Available online or onsite. Racers under 18 must have a parent or legal guardian sign.
Race entry Fee includes trail pass at Rim Nordic & chair lift ticket for Snow Valley on Race Day ONLY!
Our unique, custom medals will be awarded to each category 3 deep, or 5 deep for any with 10 or more racers. We will NOT be combining classes on race day.
OPEN Men
Expert Men: 19-29, 30-39, 40-49, 50+ •
Sport Men: 19-29, 30-39, 40-49, 50+ •
Beginner Men: 19-29, 30-39,40-49, 50+ •
Junior Boys 14 & under: 15-18 •
OPEN Women
• Expert Women – ALL
• Sport Women: 19-49, 50+
• Beginner Women 19-49, 50+
• Jr. Girls 14 & under, 15-18