ENDURO SERIES 2018
Southern California's Bike Park and only Cross Country Ski Area!With over 13 miles of great trails.
RIM NORDIC ENDURO SERIES 2018 - POSTPONED!
POSTPONED!    We will be collaborating with Snow Valley Mtn Resort across the street from us to help launch their summer season.  Due to this commitment, we will only be able to run our xc series events.  Maybe a late season Enduro race?  Stay tune!

THIS WILL BE A FUN & EXCITING EVENT FOR ALL LEVELS.
Come join us for some fun, downhill-oriented enduro racing at Rim Nordic this summer season. There will be a minor amount of climbing to access each stage. An Enduro bike, all mountain bike or a full suspension cross country bike will be good enough; downhill bike not necessary nor full face helmets. Each racer is responsible to get to the next stage start.
Course total elevation gain & stage distances with timed stages & transfers will be determined prior to each race. Possible chance of changes from race to race. Maps will be given out on race day & most likely available online prior to each race. 4-5 stages per race, timed from top to bottom, transfers not timed. NO pre-riding on race day, please!
Practice days for registered riders will be Saturday before each race. You will receive a 1 day Bike Park pass allowing you to pre-ride the course when marked in advance at no cost.
FREE camping.    Pls. advise us if you are camping!
Registration online for best savings…as little as $50 per race. Don't forget, lunch & continental style breakfast is included with your registration.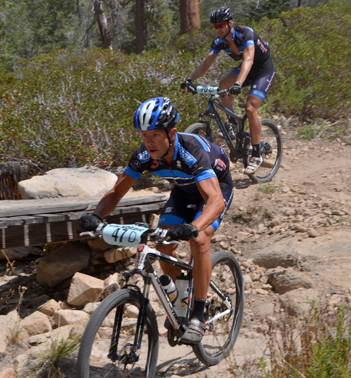 Timed from top to bottom…transfers stages not timed •
NO license needed. Helmets required. Limit 120 racers •
Time trial format – 30 seconds – 1 minute interval starts •
Go as you arrive to each start….no seeding. •
Shuttling allowed. Possible shuttling this season •
Entry fee: includes all stages, LUNCH , fruit, drink & snacks. FREE parking & FREE camping for registered racers. •
Awards 3 deep each category. 5 deep if 10 or more racers in your category. Combined finish time of all stages will determine winners. Awards ceremony shortly after last stage. •
Pre-register online or by mail 5 days before each event $60 •
• Best pricing options online including season pass for 4 races @ $200 adults, Juniors $160…..race day is $70 adults , Jrs.(18 & under) $50.
• Includes 1 day Bike Park pass to pre-ride the stages.
• NO REFUNDS.
• Registration/Check In: 8-9:30 am, racer meeting 9:30 am at registration area. Race START 10am at top of Stage 1
• Signed release/waiver required. Available online or onsite. Racers under 18 must have a parent or legal guardian sign.
• Map will be posted online week before race &  at base area.
POSTPONED !!! Overall award at last event to those who have competed in min. of 2 races, INCLUDING the series final. ALL races will be counted towards overall award. Separate award from race day. Overall awards 3 deep each category. Possible double points for series final race. More to come!
Open Men
Expert Men: 19-29, 30-39, 40-49, 50+ •
Sport Men: 19-29, 30-39, 40-49, 50+ •
Beginner Men: 19-29, 30-39,40-49, 50+ •
Junior Boys 14 & under: 15-18 •
Possibly more classes pending entries.
Open Women
• Expert Women
• Sport Women: 19-49, 50+
• Beginner Women 19-49, 50+
• Jr. Girls 14 & under, 15-18