SO CAL MTN. STAGE RACE 2016
Southern California's Bike Park and only Cross Country Ski Area! With over 15 miles of great trails.
SUNDAY AUGUST 14TH, 2016
THIS WILL BE A ONE (1) DAY EVENT – 4 stages!
BENEFITING THE MARK J REYNOLDS KIDS BIKE FUND
We are pleased to announce the return of our Stage Race event again this season with last year's new twist. Since many do not want to spend two days on the mountain… it will be a one day event. There will be 4 events in that one day. This is designed for every level of riders.
PLUS this race will be included as one of the 3 of 5 qualifiers for the Overall XC series awards, giving you an advantage to score higher since this is traditionally a smaller race than our regular XC Series races. Don't miss out on a fun day of racing; camping free @ Rim Nordic, too! AND benefiting a great cause… one of our former bike racers. LUNCH will be included with your registration, too!
Please visit www.markreynoldsfund.org for more information about this great organization.
SCROLL DOWN FOR MORE INFORMATION……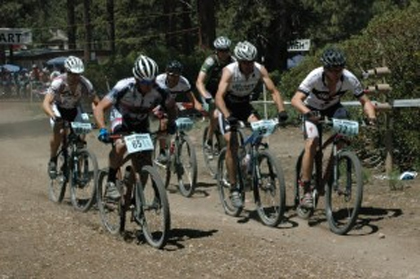 RIM NORDIC SKI AREA, Hwy 18, 5 miles east of Running Springs, on the way to Big Bear Lake in the San Bernardino Mountains across the street from Snow Valley Mountain Resort.
Hill Climb, Super D, Dirt Crit & Cross Country mtn. bike events. Maps to be posted prior to race date. You must compete in all events. These are not individual events.
• Hill Climb: 2 miles of rolling fire road with ups & downs for 1 mile, to intersection, then up 1 mile to finish, approx. 500′ elevation gain.
• Super D: 2 miles down (reverse of Hill Climb) – starting order will be the finish order of the Hill Climb, starting immediately after the last finisher of the Hill Climb.
• Dirt Crit: 1/2 mile loop in the base area. As many laps as possible within the assigned times per category (5-10 minutes). Bell determines last lap.
• Cross Country Mtn Bike Race: Event will follow same classes & categories as the XC Series events for Rim Nordic,….. a one lap race, wave starts. Course will be a 6.2 mile lap.
Each event will be scored using a POINT system based on finish placing of each event. One award will be given out on Saturday after the cross country event for all four (4) events combined points. Awards 5 deep in each category. (NO CASH AWARDS) Times subject to change on race day.
$60 online or postmarked by Aug 8th, after that & race day $70 … Junior entry fee $50.
• LUNCH, DRINKS & FRUIT INCLUDED!
• NO LICENSE NEEDED!
Sunday –
All times subject to change on race day.

•8:00 am – 9:30 am Registration & Packet Pick-Up
•10:00 am – Hill Climb Start
•10:45 am – Super D Start
•11:30 am  – Dirt Crit
• 1:00 pm XC start – with wave starts. 1 LAP… Possible revision depending on number of participants. Course will be a 6.2 mile lap.
All racers must sign a release form available on site. Racers under 18 must have a parent or legal guardian sign the release forms. If neither are not available on race day, a form may be forwarded in advance by mail.
FREE Camping available – contact Rim Nordic (909 867-2600) or email us at rimnordic@verizon.net
Issued:

1:44 PM PST on February 21, 2017

Expires:

1:00 AM PST on February 23, 2017
Partly Cloudy

Partly cloudy. Lows overnight in the upper 20s.