ENDURO SERIES 2017
Southern California's Bike Park and only Cross Country Ski Area!With over 13 miles of great trails.
RIM NORDIC ENDURO SERIES 2017
July 16,  Aug 13  & Sept 10 (Finals)
All Enduro events will be on Sundays this season.
Practice to be announced….most likely Saturday prior to race day.
THIS WILL BE A FUN & EXCITING EVENT FOR ALL LEVELS.
Come join us for some fun, downhill-oriented enduro racing at Rim Nordic this summer season. There will be a minor amount of climbing to access each stage. An Enduro bike, all mountain bike or a full suspension cross country bike will be good enough; downhill bike not necessary nor full face helmets. Each racer is responsible to get to the next stage start.
Course total elevation gain & stage distances with timed stages & transfers will be determined prior to each race. Possible chance of changes from race to race. Maps will be given out on race day & most likely available online prior to each race. 3-5 stages per race, timed from top to bottom, transfers not timed. NO pre-riding on race day, please!
Practice days for registered riders will be announced online for each race. You will receive a 1 day Bike Park pass allowing you to pre-ride the course when marked in advance at no cost.
Registration online for best savings…as little as $50 per race. Don't forget, lunch is included with your registration.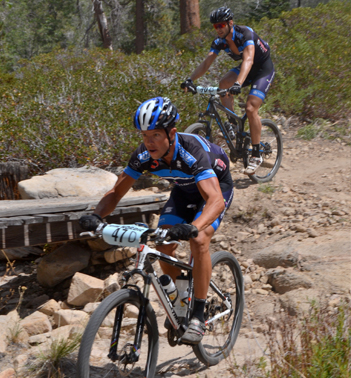 Timed from top to bottom…transfers stages not timed •
NO license needed. Helmets required. Limit 120 racers •
Time trial format – 30 seconds – 1 minute interval starts •
Go as you arrive to each start….no seeding. •
Shuttling allowed. Possible shuttling this season •
Entry fee: includes all stages, LUNCH , fruit, drink & snacks. FREE parking & FREE camping for registered racers. •
Awards 3 deep each category. 5 deep if 10 or more racers in your category. Combined finish time of all stages will determine winners. Awards ceremony shortly after last stage. •
Pre-register online or by mail 5 days before each event $60 •
• Best pricing options online including season pass for 3 races @ $150 adults, Juniors $120…..race day is $70 adults , Jrs.(18 & under) $50.
• Includes 1 day Bike Park pass to pre-ride the stages.
• NO REFUNDS.
• Registration/Check In: 8-9:30 am, racer meeting 9:30 am at registration area. Race START 10am at top of Stage 1 (Stage times subject to change)
• Signed release/waiver required. Available online or onsite. Racers under 18 must have a parent or legal guardian sign.
• Map will be posted online week before race & at base area.
Overall award at September 10th event to those who have competed in min. of 2 races, INCLUDING the series final. ALL races will be counted towards overall award. Separate award from race day. Overall awards 3 deep each category.
Open Men
Expert Men: 19-29, 30-39, 40-49, 50+ •
Sport Men: 19-29, 30-39, 40-49, 50+ •
Beginner Men: 19-29, 30-39,40-49, 50+ •
Junior Boys 14 & under: 15-18 •
Possibly more classes pending entries.
Open Women
• Expert Women
• Sport Women: 19-49, 50+
• Beginner Women 19-49, 50+
• Jr. Girls 14 & under, 15-18
Issued:

8:08 PM PDT on April 26, 2017

Expires:

3:00 AM PDT on April 27, 2017
Partly Cloudy

Sunshine and clouds mixed. High around 65F. Winds WNW at 10 to 15 mph.